So tonight I had an adventure with my piccolo. At an orchestra rehearsal the other day I noticed half way through Candide that my picc wasn't playing properly. I hadn't played it in such a cold and dry climate before, so that was worrisome. Tonight I was finally able to investigate and here is what happened...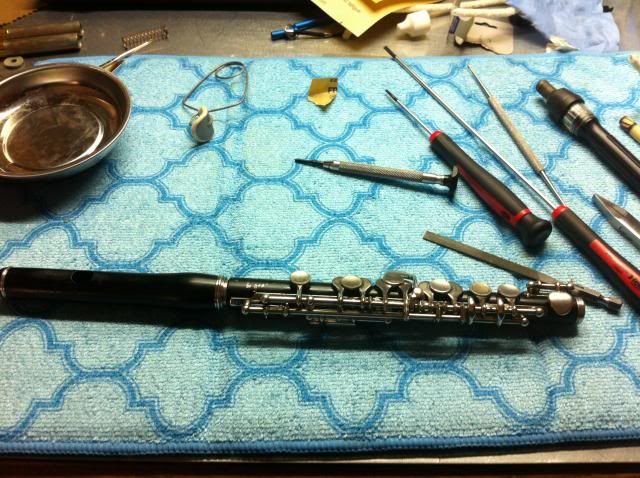 I checked springs first, just to make sure that it wasn't something simple. No springs were out of place. Because it's cold and very dry (compared to my usual warm and humid climate) I decided to check for cracks. If the tube itself isn't airtight then I can't possibly get pads to seal properly. Joints were okay, head cork was fine, so I disassembled the mechanism. I didn't have any sort of vacuum/plug system available so I was only able to check visually. It looked fine but I suspected a crack might be under a rib since the grain was fairly 'spread' in a couple of places. So I carefully removed the ribs. That was a mistake.
Thankfully, no cracks. Checked with a flashlight, jewelers loupe and a telescoping mirror. The wood is fine. So I carefully put the ribs back in place and went to put back the g# key. It didn't fit anymore. The hinge rod tubing was too long.

I about filled my pants.
I took the ribs off and put them back and sure enough... they were in the right place and the fit to the tubing/screw holes was really good. The ribs hadn't gotten bent or misaligned at all. So I sat and thought and tried not to panic. The key would barely fit between the posts now. It certainly wouldn't move and there was no way I could get it in place to get the steel back in place. I then remembered that the screws didn't want to come out when I unscrewed them. It was in that moment that the problem was evident. A lot of times, manufacturers have margins of error that can be somewhat... wide and things can sometimes get forced into place. The ribs on my piccolo had been installed in such a manner that the screws didn't properly align with the holes, so once they were in their natural position the span between two ribs changed thereby meaning the span between two posts changed.
Since I couldn't replicate what the manufacturer did without damaging the body, and I couldn't get the key in place without the key binding I had to resort to refitting the hinge tube. I pulled out my jewelers files and very very VERY carefully filed the hinge tube length to fit. It worked like a charm. So then that left me with some other keys that would no longer fit... so I thought. The left hand key stack had always had some side to side play in it. The side to side play was gone, and the pads were still sealing. The 'seat' had shifted slightly, but the seal was still really good. So the problem had been in the installation of the rib that mounts the left hand key stack. Even the keys with play had indicated a problem all along, but they were within the tolerances accepted by the manufacturer. Since I hadn't ever had it overhauled no one had ever bothered to swedge the keys. All I can say is that I think I got really really lucky.
In the end the playing problem was that I needed to increase the spring tension on a closed key, and float the pad into place. But the way the instrument plays now is COMPLETELY different. Without the excess tension from ribs being forced into place, the sound has really opened up. It's a lot more flexible and resonant than before. I've been told that my low register is my 'dragon tone' and I can now achieve the same result on this piccolo (whereas I had only been able to on Hammigs, Burkarts, and Keefes before). I think I'll rename my piccolo Mushu (a la Mulan).
I got really really REALLY REALLY lucky I think. The length difference was only a few thousandths of an inch, but it made a difference. I got really lucky.
Lesson Learned: Don't remove ribs if you don't have to.