Hello everyone. I have started to play the flute about two months ago, while I was on a trip in India. I took a few private lessons while I was in there, in a city called Dharamshala (they have a lot of people who give lessons for music instruments there). I was taught the very basics, like how to hold the flute, blow correctly, how to play each note, and when I mastered those, my teacher taught me a few really basic Nepali folk songs (he was from Nepal). I'm fairly good at those now, and I want to start learning more songs, however, I've encountered a few problems:
First, most songs I find online are written with the classical note symbols on scales, which I don't know how to read, such as this one:
And when I tried to find a guide to help me read those, they were all for the professional, concert-type flute, like this one:
http://trevorjamesflutes.com/PDFs/TJ%20 ... 0chart.jpg
(link because it's a big picture)
While my flute is very simple, it only has 6 holes for the fingers and another one for blowing, basically this one: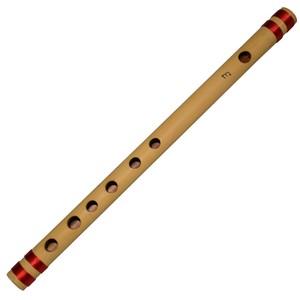 So basically, I'm asking if there's any chance that I could learn to play songs from scales on my simple-style flute. I only know to play these notes:
So, sorry for the long post, and warm thanks to anyone who can help me!