So I've had a couple of people ask to see my workbench. So... here we go. But while we're at it, I've decided to play a game. See if you can spot everything on my bench. Sort of a 'spot the tool' a la 'where's waldo?'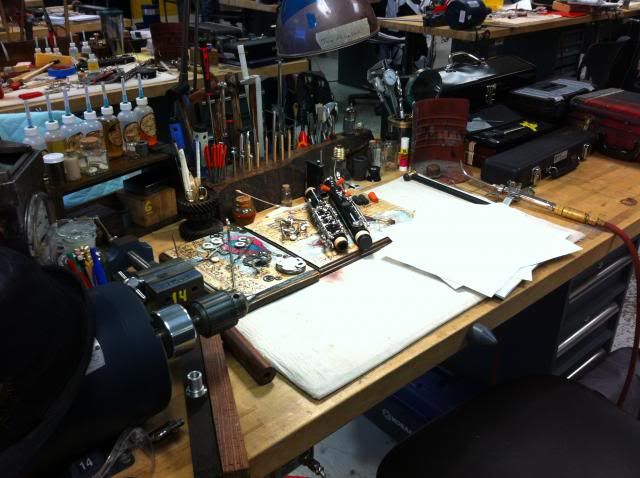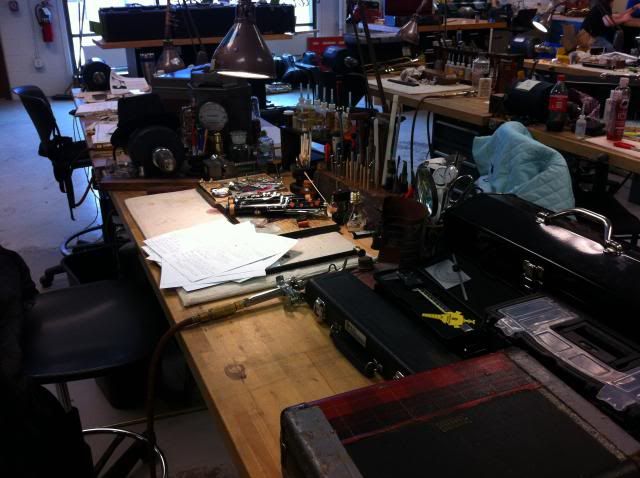 Some easy ones:
Flute keys, Clarinet, Magnehelic, Bench motor, flute pin driver, screw boards, bench pad.
Some harder ones:
Starrett bevel protractor, Cooper headjoint comparison gauge, bench anvil, embroidery scissors, three calipers (one metric, one standard, and one digital), pad height gauges, tube drawing knockoff die, Corrosion cracker needle oiler, shellac, swedging collet, cutting block, torch striker, slide tube grease, paste flux, blue static cling tape, JL smith pad cup guard for flute pads, pad clamps, votaw leak light, tons of screw drivers, tons of pliers, a few hammers/mallets, mylar feeler gauges, steel toolbox, mini-toolbox, clarinet case a la scotland, cigar box full of sheet cork, sand paper, and tape.
Oddities:
bottle of grenadilla dust, apothecary jar of used razor blades, light bulb alcohol lamp, jar of used pads, vial of feeler gauge stock, gear pencil cups (2), spyglass (they put me in the back of the room... I have to see somehow!), magnifying glass, steel seamstress scissors, vial of water to use to seal around the plugs of the magnehelic, vial filled with sized corks for measuring thicknesses, radio vacuum tubes, a fedora, an antiqued box full of razor blades, clip on jewelers loupes with double lenses, cocobolo headjoint blank, unnamed wood billets, piccolo headjoint socket and soldering die, pocket watch full of flute shims.
All of the drawers at my bench are full too. Things like swedging pliers, brass specific tools, repair books relating to every instrument, etc. My bench at home is a desk that I ripped the hutch off of, replaced the top with stainless steel, then replaced the hutch with a new copper pegboard backing. I then ripped out the shelves in the hutch and installed a fluorescent light, peg hooks and things for tools (painted gold). Aside from a plethora of bottles and things, it also has a drill press, drill press vise, small 2" clamp on bench vise, dremel, tons and tons of drawers, and a whole assortment of things (a large camel back steamer trunk, machinist drawers, and a printmakers drawer among other things).
Let me know which ones you find and which ones you don't!